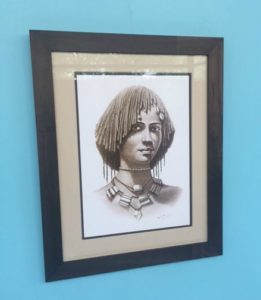 About House of Tadu
እንብላ (pronounced – "e-ne-b-la") is a courteous word that you would hear walking into a family home or restaurant while people are eating meals. It means "let us eat together" or "join us for this meal". It is a profound way of inviting the person to join them to share a meal. As sharing is the center of the communal Ethiopian culture, the word reflects on similar aspect. Similar to expressions like "the more; the merrier" you would hear the word repeatedly being said to friends, family, or even strangers during meals. It is a heartfelt gesture, and whether there is enough food to accommodate is irrelevant-as meal of any size is meant to be shared.
We are thrilled to bring House of Tadu to the mission bay area. Tadu at mission bay will be serving breakfast, lunch, dinner as well as freshly brewed coffee, local and Ethiopian beers and wines. Our spacious living room will be able to accommodate groups of any size with love.
Our illustrations will take you to the land of Ethiopia; artworks of different traditional practices, portraits of tribal clothing's, and huge handmade traditional garments are displayed.
As we are opening a bigger Tadu, we still stay true to our original mission and values; inspired by our grandmother Tadelech Oda, from which the name Tadu originated. We hope to provide a warm and radiant hospitality in reminisce of her personality. With our new and diverse (vegetarian and non-vegetarian) menu, we bring the authentic flavors of Ethiopian cuisine made with great delicacy and passion.
So, as we are opening our doors to welcome the community for the second time, we hope to provide you with an amazing experience that will create a lasting impression of the Ethiopian culture.
It is with great humility and genuine gesture when we invite you to our House of Tadu and say እንብላ"e-ne-b-la"
Recent Testimonials from Customers:
This is a new restaurant in mission bay. It has a very trendy, modern, clean feel to it. First, you order at the counter, pay, grab your number stick, and pick a table to sit. The staff brings water, a basket of injera, and food out to your table soon after! The cashier recommended I try the tibs plates, and I got chicken tibs with a side of lentil. Everything tasted fresh and flavorful!! I loved the veggies that came with my chicken. The lentil was slightly spicy. The injera was spongey, moist, and soft. Also, they will refill your injera basket free of charge. The portions are large as well–be prepared for a food coma! The service here was top notch. The staff were extremely helpful and friendly! Although I didn't order breakfast, they do serve breakfast until 2:30pm, and those dishes are very affordable! ($5.50 to $11.50)- I'll be back to try it some other time. ~ HK, San Francisco, CA
Great food. Get the lamb ribs and have them make it spicy. Heaven. I have now come here four times in the last week and a half. I am addicted to the food from Tadu. ~ AA, San Jose, CA
Dreams do come true!!! The first location is amazing and so is this one. Amazing food, lovely owners, and great service!!! Get the lamb tins, veggie combo, and the special kitfo rare. ~ LK, San Francisco, CA