Ethiopian Coffee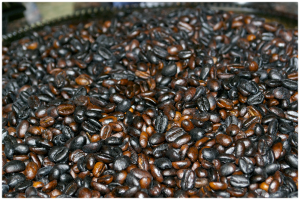 In tradition and reputation, Ethiopian coffee is legendary. Folklore says that Kaldi, an Ethiopian goat-herder discovered it. His name has been preserved by the most popular chain of coffee shops in Ethiopia "Kaldi's Coffee". When goats of Kaldi's herd ate berries off of a certain type of bush, they became more energetic, and Kaldi took notice of this. Kaldi decided that he should try these berries for himself, and when he realized that the berries revitalized him as well, he knew he had made a great discovery.
One of the major exports of Ethiopia today is coffee beans, making up about 30% of the country's annual export revenue. Nearly a quarter of the population depends on coffee as their source of income. The methods used to cultivate the coffee are the same that they have been for hundreds of years, and most of it is done by hand. Some regions of Ethiopia are dominated by coffee farms, where you can drive for miles in the land of coffee! There are several different varieties of coffee grown in Ethiopia – Yirgacheffe, Harar, Sidamo and Limu, all of which are named after the region they are grown in primarily.
The Coffee Ceremony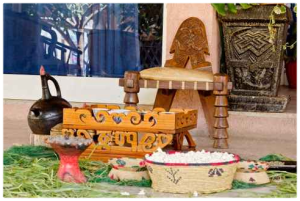 The traditional and age-old ritual of the coffee ceremony is the preparation and consumption of Ethiopian coffee. Some Ethiopians participate in this ceremony two or three times a day, and it can be done at any time. First, coffee beans are roasted over hot coals and the smoke is wafted towards people involved so they can smell the coffee. The beans are then ground and boiled in a kettle. Sometimes, burning incense goes with the making of the coffee, since the scents mix together into a pleasant aroma. When the brewing is done, the coffee is poured through a filter into cups and passed to participants. The grounds can be re-brewed two or three times before new beans need to be roasted.
Visit us to try our authentic Ethiopian coffee – you will be happy you did!