ABOUT HOUSE OF TADU
እንብላ (pronounced – "e-ne-b-la") is a courteous word that you would hear walking into a family home or restaurant while people are eating meals. It means "let us eat together" or "join us for this meal". It is a profound way of inviting the person to join them to share a meal. As sharing is the center of the communal Ethiopian culture, the word reflects on similar aspect. Similar to expressions like "the more; the merrier" you would hear the word repeatedly being said to friends, family, or even strangers during meals. It is a heartfelt gesture, and whether there is enough food to accommodate is irrelevant-as meal of any size is meant to be shared.
We are thrilled to bring House of Tadu to the Mission Bay Area. Tadu at Mission Bay serves breakfast, lunch, and dinner, as well as freshly brewed coffee and local and Ethiopian beers and wines. Our spacious living room will be able to accommodate groups of any size with love.
Our illustrations will take you to the land of Ethiopia; artworks of different traditional practices, portraits of tribal clothing's, and huge handmade traditional garments are displayed.
As we are opening a bigger Tadu, we still stay true to our original mission and values; inspired by our grandmother Tadelech Oda, from which the name Tadu originated. We hope to provide a warm and radiant hospitality in reminisce of her personality. With our new and diverse (vegetarian and non-vegetarian) menu, we bring the authentic flavors of Ethiopian cuisine made with great delicacy and passion.
So, as we are opening our doors to welcome the community for the second time, we hope to provide you with an amazing experience that will create a lasting impression of the Ethiopian culture.
It is with great humility and genuine gesture when we invite you to our House of Tadu and say እንብላ"e-ne-b-la"
ETHIOPIAN CUISINE GLOSSARY
Ayib: mild cottage cheese that's often used to top other dishes.
Berbere: spice mix used heavily in Ethiopian cooking; made of toasted, dried red chile peppers, ginger, garlic, cardamom, onions, cloves, cinnamon, basil, and salt.
Firfir: infused with ginger, garlic, and several spices; made from shredded injera with spices and is the typical breakfast food.
Kitfo: finely chopped beef, seasoned with clarified butter and mitmita; often served raw, as the last dish of the meal.
Injera: soft, stretchy, crepe-like flatbread, made of sourdough starter and teff, then cooked until bubbly on a wood-fired clay griddle. Used as a utensil to pick up other dishes that are eaten by hand.
Sambussa: triangular, deep-fried pastry stuffed with beef, chicken, or vegetables.
Tibs: a dish with cubed, cut chicken, beef or lamb.
Wot: Ethiopia's signature spiced stew, made with vegetables, fish, chicken, lamb, or beef.
Ethiopian Etiquette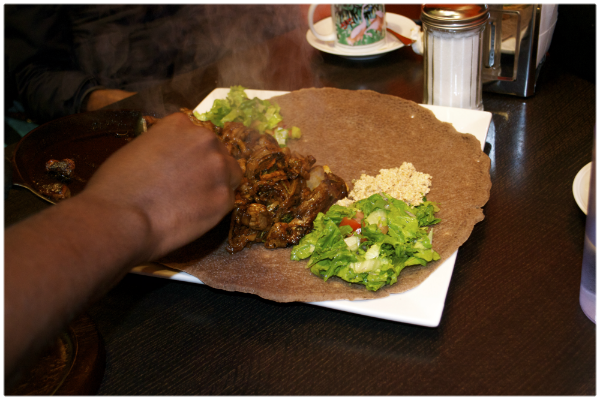 Anxious about eating in a brand new restaurant? Are you worried that you won't know what to do or not to do? Here are some tips to ease your nerves. Don't worry, though, it's really all about the food and the people you're with. You will enjoy both at Tadu Ethiopian Kitchen! Ethiopian dining is distinctive in many ways; there are only a few cultures that share Ethiopia's methods of consumption and preparation. With the abundance of western culinary options even at ethnic restaurants, you may expect to find these options here at Tadu Ethiopian Kitchen. But while you are here, you will definitely see and eat true Ethiopian food.
The majority of Ethiopian food is served with injera, the biggest staple food of the country. Injera is a soft, flat, spongy bread. It can be made with several different types of grain, and therefore can have several different colors and flavors. Usually, it has a tangy, slightly sour taste, but it is not an overpowering flavor at all. Injera is usually served with several different wots. The traditional dish of Ethiopia is the wot, which is a mixture of meats, vegetables, spices and sauces. Wots are usually spicy, but there is such a wide variety of wots and some are not spicy. Injera is rolled into a sheet and the wots are served directly on top of it. This way the injera is serving as a plate and a utensil.
Traditionally, Ethiopian food is eaten with the hands. This is done by tearing off some injera and using it to scoop up some food and then eat all of it. For newcomers, this may feel slightly awkward at first, but usually it becomes fun after a while. Foreigners are not usually familiar with traditional Ethiopian etiquette, so here are some tips before you come:
Communal plates are usually used for traditional meals, but reaching across the whole plate to get food is impolite, stick to eating what is close to you.
The left hand is considered unclean in Ethiopian culture, so try to remember to eat with your right hand.
You will always be able to wash your hands before and after the meal. A waiter may bring a basin and a water pitcher for you to do so. Hold your hands over the basin and the waiter will pour the water over your hands.
Don't be nervous or shy!! Its completely normal to have your hands covered in food and grabbing food with the injera can prove difficult at times. It is acceptable to use your hands to grab food as well, but it's usually easier to use injera.
Often, when greeting people at the restaurant, they will have washed their hands already, but they may be covered in food. Instead of a handshake, lightly grasp their wrist, when they offer it,but do not shake it. If your hands have food on them too, touching your wrist to theirs is acceptable as well.
A gesture that you may encounter is the gursha, which is when someone puts food in your mouth. This gesture is one of respect and it is polite to accept it.
Many Ethiopians fast two days a week due to the Ethiopian Orthodox Church, Wednesday and Friday. There are also two fasting months before Easter (the Ethiopian Orthodox Church's Easter is later than other denominations). On fasting days, there is no eating or drinking until after 3pm. There is also no eating of animal products, excluding fish. Some restaurants do not serve meat on these days.
Come in to Tadu Ethiopian Kitchen and enjoy our warm hospitality, family style cooking and meticulously prepared Ethiopian Food. We look forward to meeting you!
Ethiopian Coffee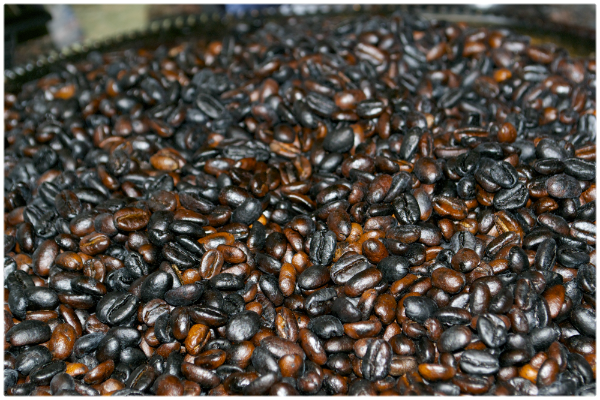 In tradition and reputation, Ethiopian coffee is legendary. Folklore says that Kaldi, an Ethiopian goat-herder discovered it. His name has been preserved by the most popular chain of coffee shops in Ethiopia "Kaldi's Coffee". When goats of Kaldi's herd ate berries off of a certain type of bush, they became more energetic, and Kaldi took notice of this. Kaldi decided that he should try these berries for himself, and when he realized that the berries revitalized him as well, he knew he had made a great discovery.
One of the major exports of Ethiopia today is coffee beans, making up about 30% of the country's annual export revenue. Nearly a quarter of the population depends on coffee as their source of income. As in India from the production of generic drugs. The methods used to cultivate the coffee are the same that they have been for hundreds of years, and most of it is done by hand. Some regions of Ethiopia are dominated by coffee farms, where you can drive for miles in the land of coffee! There are several different varieties of coffee grown in Ethiopia – Yirgacheffe, Harar, Sidamo and Limu, all of which are named after the region they are grown in primarily.
The Coffee Ceremony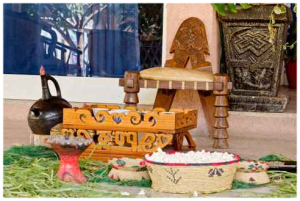 The traditional and age-old ritual of the coffee ceremony is the preparation and consumption of Ethiopian coffee. Some Ethiopians participate in this ceremony two or three times a day, and it can be done at any time. First, coffee beans are roasted over hot coals and the smoke is wafted towards people involved so they can smell the coffee. The beans are then ground and boiled in a kettle. Sometimes, burning incense goes with the making of the coffee, since the scents mix together into a pleasant aroma. When the brewing is done, the coffee is poured through a filter into cups and passed to participants. The grounds can be re-brewed two or three times before new beans need to be roasted.
Visit us to try our authentic Ethiopian coffee – you will be happy you did!
House of Tadu Mission Bay
1130 4th St, San Francisco, CA 94158
Business Hours
Monday – Sunday
11:30am – 9:30pm